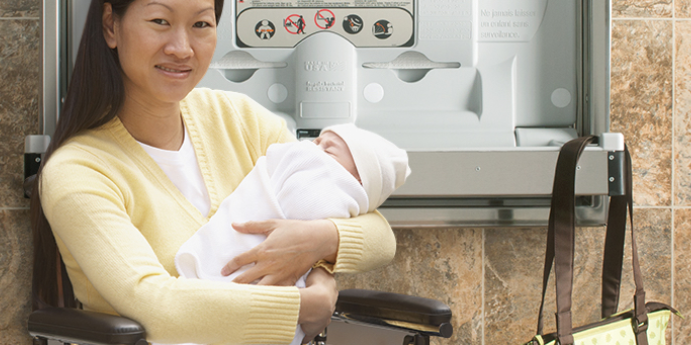 While it isn't a federal law that every public restroom contain a baby changing station, establishments that make investments in baby changing stations provide a higher level of customer service. Restaurants, hotels, and stores demonstrate the importance of patron needs when they provide a safe, clean place for parents of either gender to change diapers. Here's what establishments need to know to follow ADA guidelines when updating or building your facility's restrooms.
First things first: what is the ADA? The Americans with Disabilities Act, put into action in 1990, provides protective measures against the discrimination of those with disabilities. For business and property owners, the guidelines ensure their facilities are easily navigated and enjoyed by visitors in wheelchairs. Every aspect of the washroom in your public establishment must accommodate guests of varying abilities, including the safe use of baby changing stations.
ADA Baby Changing Station Requirements
Establishments often struggle to fit baby changing stations into restrooms, opting to install them in handicapped stalls. When space is at a premium, you consider the purpose and ROI of every square foot in your building!
Businesses must follow these regulations to keep their baby changing stations ADA compliant:
Operation
Unit should be operable with only one hand and not require tight grasping, pinching or twisting of the wrist. The force necessary to use the station should not exceed 5 pounds.
Work Surface
The work surface should be a maximum of 34 inches and a minimum of 28 inches above the floor.
For a more technical description of ADA regulations visit our detailed guidelines page for more installation information and a downloadable guide. You can also find more information for compliance for small businesses on the ADA site.
By installing units to meet ADA compliance, businesses ensure all visitors can benefit from the convenience of baby changing stations. Whether it's Dad's and their #squatforchange social media campaign for changing stations in men's public restrooms or stories about ADA compliance on the local news, small details in public washrooms have the ability to promote your business.
We know how important it is that your facility meets both ADA and customer standards. Foundations baby changing stations offer the best value and the most extensive selection to accommodate every budget and meet ADA specifications. Contact Us or call 877-716-2757 to learn more about our products, including baby changing stations.